Oktoberfest 2016
(German + English version available)
Auch vor TS4 macht das Oktoberfest in München keinen Halt.

Einer darf dabei natürlich nicht fehlen und das ist Titus Linde.

Zusammen mit seinen Facebookfreunden Zoey aus Texas und Nelli aus Kanada macht der die Wiesn unsicher.
English:
Oktoberfest in Munic not even stops at TS4.
And one person would never miss such a big party: Titus Linde
With his facebook friends Zoey from Texas and Nelli from Canada he payed a visit to the Wiesn in the year 2016.

Titus war mehr als gut gelaunt. Heute war der letzte Tag vom Oktoberfest und er... er würde das große Ereignis in diesem Jahr garantiert nicht verpassen.
Er wollte nur noch eine Freundin abholen und anschließen mit ihr den nächsten Zug nach München nehmen.
Ti was in the best mood. It's the last day of Oktoberfest and he really enjoyed the fact that he wouldn't miss the big party this year.
He would pick up a friend and take the train to Munich.



Vor ihm lief ein Mädel in einem Dirndl, aber sie schien nicht genau zu wissen wohin sie gehen soll.
Wer weiß... vielleicht wollte sie auch auf's Oktoberfest. Aber vielleicht trug sie auch nur zurfällig ein Dirndl.
The woman in the dirndl in front of him seemed to be unsure about her destination.
Maybe she wants to visit Oktoberfest too, but maybe she wears a dirndl only by chance.



Plötzlich blieb sie stehen und für einen Moment überlegte er auch stehen zu bleiben und ein Gespräch mit ihr anzufangen.
Aber... er war ohnehin schon spät dran und wollte seine Freundin nicht noch länger warten lassen.
She stopped and for a moment he thought to stop too and to start a conversation.
Too bad he was already late and he didn't want to let his friend wait.



Zoey: Warte mal !!! Du siehst so aus als ob du mir weiterhelfen kannst.
Ok, nachdem sie ihn nun angesprochen hatte blieb er schon allein aus Höflichkeit stehen.
Zoey: Hey.... youuu !!! Excuse me, but you seem to be exactly the right one to help me.
Ok, now that she started the conversation he needed to stop and to show off polite.



Zoey: Titus !!! Du bist das ???
Titus: Zoey

Ich hatte wirklich nicht mit jemandem aus Texas in einem Dirndl gerechnet !!!
Zoey: Nun jaaa... ich dachte mir auf dem Oktoberfest in München ist bestimmt was geboten und das wollte ich nicht verpassen.
Zoey: Tiiiii !!! It's youuu ???
Ti: Zoeyyy

I never awaited a Texan girl in a Dirndl !!!
Zoey: Well I thought Oktoberfest in Munich would be a wild event and I didn't want to miss it.



Zoey: Allerdings bin ich mir unsicher ob das der richtige Weg zum Bahnhof ist.
Titus: Das Oktoberfest ist bestimmt genau das Richtige für dich. Die Bayern und die Texaner haben einiges gemeinsam.
Zoey: Hmmm... du bist der einzige Bayer den ich kenne und du musst es ja wissen.
Zoey: But now I struggled if it's the right way to the station.
Ti: Ohhh Oktoberfest is the right thing for you, you will love it. Bavarians and Texans have a lot in common.
Zoey: Hmmm... you need to know. You're the only Bavarian I know.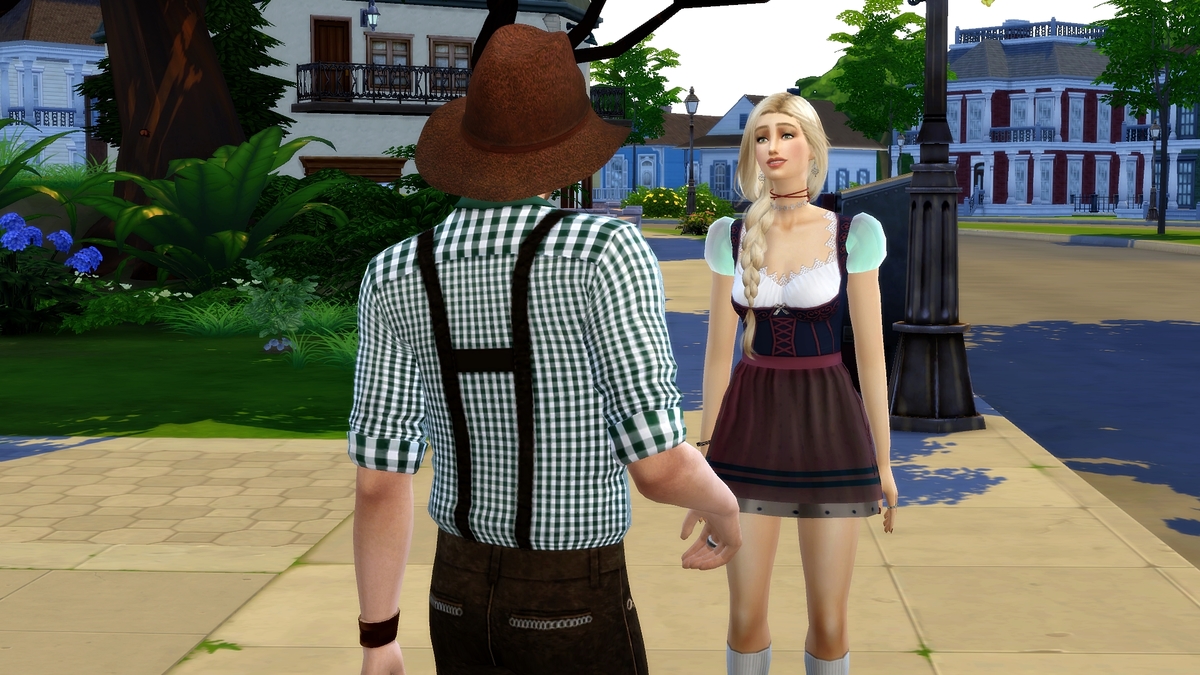 Titus: Ich treffe mich mit einer Freundin aus Kanada um mit ihr auf die Wiesn zu gehen. Wenn du dich anschließen willst, kein Problem.
Zoey: Ich will dir nicht dein Date vermasseln.
Ti: I'm just on my way to meet a friend. We wanted to go to the Wiesn too, sooo... if you want you could join in and come with us.
Zoey: I don't wanna disturb a date.



Titus: Nein... keine Sorge.
Meine Freundin kommt auch von der anderen Seite des großen Teichs und ich bin mir sicher ihr werdet euch gut verstehen.
Ti: Naaa... don't worry. This friend is coming from the other side of the big pond too.
I'm sure you'll come along very well.



Schon wenige Minuten später erreichten sie den Treffpunkt.
Titus: Hey Nelli !!! Ich habe zufällig Zoey getroffen. Sie war gerade auf dem Weg zum Bahnhof.
Nelli: Ahhh... was für eine gute Gelegenheit zusammen zu feiern und noch jemand der garantiert Englisch spricht =D
Only a few minutes later they arrived at the meeting point.
Ti: Hi Nelli !!! By chance I've met Zoey right on her way to the station.
Nelli: Ahhh... great opportunity to make a wonderful party experience and one more English speaking person for me =)




Titus: Eins kann ich euch gleich sagen: Alle Oktoberfest-Lieder sind in Deutsch. Aber ich kann euch die im Zug alle beibringen, kein Problem.
Zoey: Das willst du garantiert nicht hören, wenn ich deutsche Lieder singe.
Nelli: Titus, das sollte ein Spaß sein, oder?
Ti: But all Oktoberfest songs are in German, sooo... we need to practice on our way in the train. I will teach ya.
Zoey: You don't wanna listen to my voice singing German songs.
Nelli: C'mon... Ti, you're kidding.



Titus: Keine Sorge, meine Damen.. ihr habt den besten Lehrer.
Bis wir in München ankommen könnt ihr die wichtigsten Lieder vor euch herträllern.

Ti: Nooo worries, Miladies, I'm the best teacher. Until we arrive Munich y'all will warble away the most important songs.
Zoey: Vielleicht sollten wir schon im Zug mit dem Biertrinken anfangen.
Zoey: So we might better start drinking in the train.
Nelli: Das wäre wohl für Titus am meisten angesagt.
Titus: Da führt aber kein Weg dran vorbei... wer auf der Wiesn feiern will, der muss auch singen.
Nelli: Maybe you will be the one who needs to drink beer the most, Ti.
Ti: No way to chicken out. If you want to party on the Wiesn you need to sing too.



Zoey: Nelli, dann muss er das wohl aushalten.
Nelli: Ist ja nicht so, dass wir ihn nicht vorgewarnt hätten.
Titus: Keine Sorge, sooo leicht haut mich nix um.
Zoey: Well, Nelli, let's give us some pain to him during our trip.
Nelli: It's not that we wouldn't have forwarned him.
Ti: I'm strong enough... and....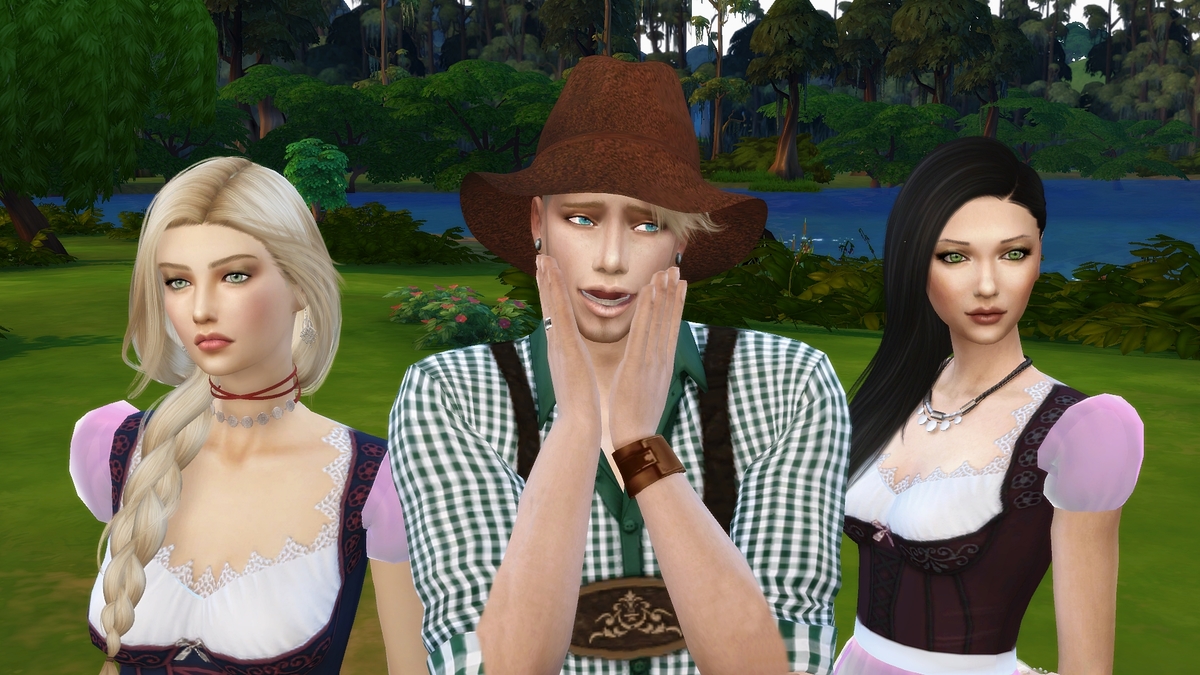 Titus: Außerdem, was tut man nicht alles für die Gesellschaft zwei so schöner Mädels.
Ti: Nothing really matters if I only have two beautiful "Mädels" joining me.
(Mädel = girl in Bavarian language)
Titus: Hier geht's lang, meine Damen.
Ti: Sooo let's go girls... this is our destination.
Ich glaube hier brauche ich nichts weiter zu erzählen.
Jeder kann sich vorstellen, dass die drei ordentlich für Stimmung gesorgt haben.

No need for a dialogue.
I think everybody can imagine that we're going to rock the party tent all alone.



Das pinke Glücksschwein auf dem Tisch haben sie beim Karaoke-Wettbewerb gewonnen.
Sie belegten den ersten Platz in der Kathegorie: Beste ausländische Darbietung eines Oktoberfestliedes.
Und seitdem singt er nun unaufhörlich, der Titus.
Nelli: Das viele Singen macht unglaublich hungrig... kann mir mal jemand mit dem Gockel helfen.
Zoey: Ich habe keine Ahnung warum, aber mein Gehirn ist wie leergefegt. Ich kann mich an überhaupt keinen Songtext mehr erinnern.
They won this wonderful pink pig at the karaoke contest.
They were placed first in the cathegory: foreign performance of a Bavarian song and since than Ti couldn't stop singing anymore.
Nelli: I'm hungry because all that singing today... can somebody help me with that chicken.
Zoey: I don't know how, but my brain got kind of empty. I can't remember these fkn lyrics anymore.



Zur Sperrstunde stimmte der Festzeltwirt das letzte Lied an: Weust A Herz Host Wia A Bergwerk ... von Rainhard Fendrich.
Die drei Freunde erhoben sich von der Bierbank und schunkelten zur Musik.
https://www.youtube.com/watch?v=t-umYuRxHn8

The host of the Oktoberfest tent stroke up the last song... "Because you have a heart like a mine" of Rainhard Fendrich.
And the friends stood up from their seats and started to sway to the music.
Mit dieser gelungenen Festzeltnacht schrieben die drei ein neues Kapitel in ihrer gemeinsamen Simsgeschichte.
They had a great party night and wrote a next common part of their common history.



Oktoberfest 2016 mit Zoey (Texas), Titus (Deutschland) und Nelli (Kanada)
(Zwei meiner Facebook-Freunde)
OKTOBERFEST 2016 with Zoey, Ti and Nelli