Hier mal eine kleine Bildergeschichte aus dem SCS Spiel Euro Truck Simulator 2.




On the road again...




Ich saß am Schreibtisch in meiner Niederlassung in Stockholm, zu der ich turnusmäßig anreiste um nach dem Rechten zu sehen, als ein Sonderauftrag herein kam.
Eine hochwertige Motoryacht sollte nach Venedig geliefert werden.
Also suchte ich nach einem passsenden Fahrer, bzw. einer passenden Fahrerin.
Doch keiner aus der Stockholmer Niederlassung wollte den Job übernehmen.
Auch die Anfrage bei einen anderen schwedischen Niederlassungen kam zum selben Ergebnis.
Keiner wollte die Tour übernehmen.
Es lag wohl daran, daß die Yacht über sechs Millionen Euro wert war.
Dabei war das Boot gar nicht so groß, aber der Auftraggeber hat die gesamte Innenausstattung in Gold, Platin und Edelsteinen ausführen lassen.

Ich bin schon lange nicht mehr selber eine Tour gefahren und so dachte ich, fahr halt selbst.
Meine Zugmaschine hatte ich ja dabei.
Wenn ich auf Niederlassungstour durch Europa schippere, fahre ich mit meinem Scania Hauber nebst einem gemütlichen Wohnauflieger.
Letzteren stellte ich also in der Niederlassung ab und begab mich zur Werft im Hafen von Stockholm.

Die Yacht war bereits auf dem Tieflader verzurrt und abfahrbereit.
Ich sattelte also auf und fuhr im frühen Morgengrauen los.

I was sitting at my desk in my Stockholm office, which I came to regularly to see what was going on when a special order came in.
A high-quality motor yacht was to be delivered to Venice.
So I was looking for a suitable driver.
But nobody from the Stockholm branch wanted to take over the job.
Also the inquiry with another Swedish addresses came to the same result.
Nobody wanted to take over the tour.
It was probably due to the fact that the yacht was worth over six million euro.
The boat wasn't that big, but the client had the entire interior made of gold, platinum and precious stones.

I haven't driven a tour myself for a long time and so I thought, just drive myself.
I had my tractor with me.
When I sail through Europe on a branch tour, I drive with my Scania torpedo front together with a comfortable residential trailer.
So I parked the latter in the branch and went to the shipyard in the harbour of Stockholm.

The yacht was already lashed on the low-loader and ready to leave.
So I saddled up and left early in the morning.





Am Mittag legte ich die erste Rast ein.

At noon I took my first rest.




Der Rastplatz an der Tankstelle war ruhig.
Meine Katze lag eingerollt auf dem Beifahrersitz und schlief tief und fest.

The resting place at the gas station was quiet.
My cat lay rolled up on the passenger seat and slept soundly.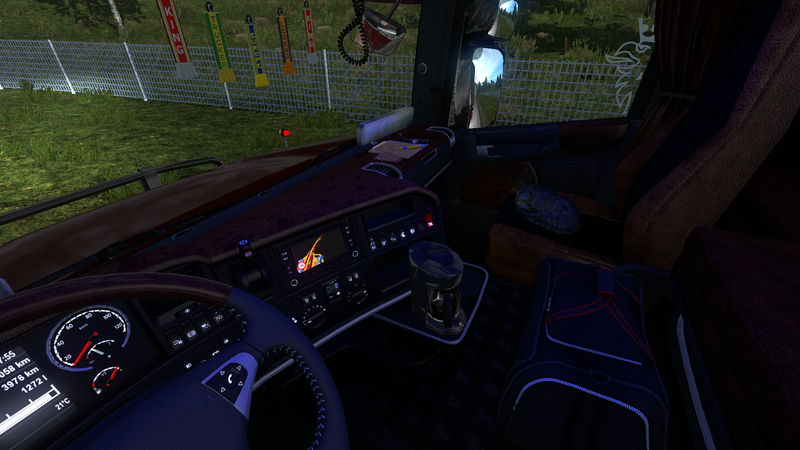 Ich kochte mir einen Kaffee und aß etwas.
Das Wetter war herrlich.

I made myself a cup of coffee and ate something.
The weather was wonderful.





Und so vertrat ich mir noch ein wenig die Beine.

And so I stretched my legs a little.




Dann ging es zurück auf die Autobahn.

Then it went back to the freeway.




Am späten Nachmittag hatte ich den Abzweig nach Helsingborg erreicht.

In the late afternoon I had reached the junction to Helsingborg.




Von da aus ging es dann weiter nach Trelleborg und schließlich auf die Fähre nach Rostock.

From there we went on to Trelleborg and finally to the ferry to Rostock.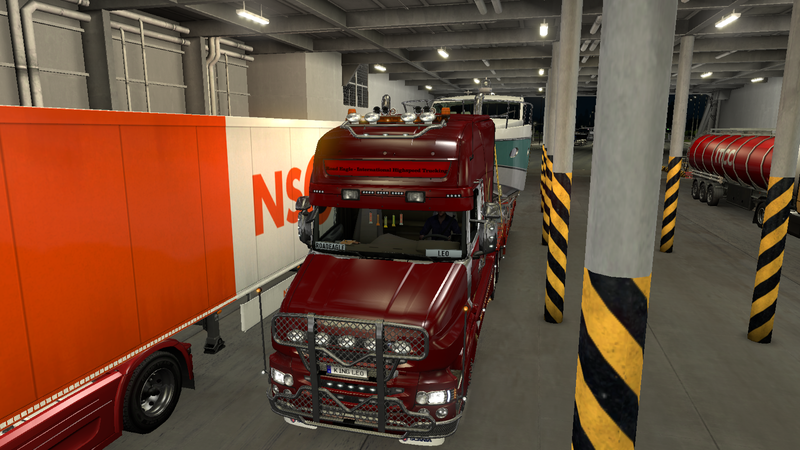 Endlich konnte ich schlafen. Die Fahrt durch die Nacht verschlief ich und kam gut ausgeschlafen in Rostock an.
Weiter ging es nun einmal von Nord nach Süd durch ganz Deutschland.

Finally I could sleep. I slept through the night and arrived well rested in Rostock.
The journey continued from north to south through all of Germany.




Nach einigen Stunden war dann eine Rast zum Schlafen fällig.

After a few hours a rest for sleeping was due.




Und weiter gings.

And then it went on.




Immer mal wieder gab es interessante Dinge zu sehen.
Einmal wurde ein Autodieb aufgebracht, ein anderes Mal ein zu schneller Kollege angehalten.

Every now and then there were interesting things to see.
One time a car thief was upset, another time a colleague who was too fast was stopped.




Spät abends fuhr ich auf einen Rastplatz. Schon mitten in den Alpen kurz vor der Grenze.
Nach dem Frühstück ging es dann weiter.

Late in the evening I drove to a rest area. Already in the middle of the Alps shortly before the border.
After breakfast I went on.




Ein paar Stunden später erreichte ich die italienische Grenze.
Und die unvermeidlichen Mautstationen, die es in Italien alle paar Kilometer gibt.

A few hours later I reached the Italian border.
And the inevitable toll stations, which there are in Italy every few kilometers.




Nach einer letzten Übernachtung erreichte ich schließlich Venedig.

After a last overnight stay I finally reached Venice.




Und endlich geschafft.
Bevor ich aber zurückfuhr, machte ich noch ein paar Tage Urlaub in Italien.

And finally done.
But before I drove back, I took a few days vacation in Italy.